At KneeBouncers, we're about purposeful play. We especially love techy ways to play and learn using apps and online games for babies, toddlers, and preschoolers. After all, learning through play with interactive apps is what we know best!
We live in a tech-based world. Kids today will use tech in almost every aspect of their life. They will never know a world without smartphones, computers, wifi, and apps!
So we put together five techy ways to play using apps and devices perfect for breaking the weekend boredom or as a fun summer break project!
1. Superhero Photo Story
 All it takes is a little cardboard, a mask, a cape, a digital camera, and viola! You've now got the makings of your family's very own superhero photo story. 
If you need inspiration, head to Pinterest, where they have dozens of home photo shoot ideas.
If you're handy with a green screen and computer editing, you can really make your photos pop! Give your kids a chance to get in on the photography fun and allow them to pose you and take some shots.
The Baker Mama has some adorable superhero ideas we recommend you check out!
2. Make A Playlist and Have a Dance Party
This fun, techy way to play will have you moving and grooving! If you have an aspiring DJ in your home? Teach them to use your favorite music app to create customized playlists for any occasion!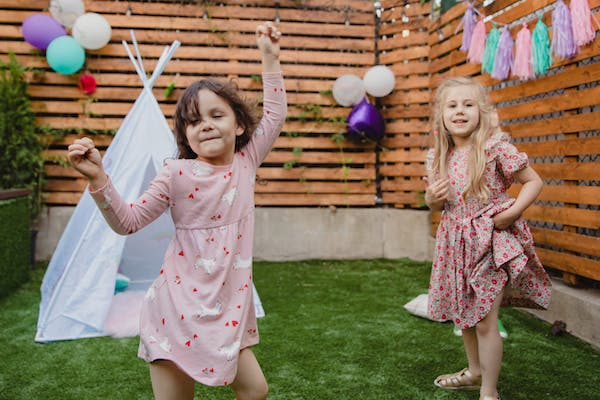 Let them put together a list of their favorite tunes, then turn the lights down and break out a disco ball! Or take it outside if you need more space to move around.
Make it an all-out experience by allowing them to set the dress code, decorate, and purchase special snacks and drinks!
3. Make an Album of their Artwork
Kids' artwork takes up a lot of space, but how do we choose precious pieces to save or toss? If you have a budding Picasso or Rembrandt, as I do at home, you likely have an overflowing bin of masterpieces. Turn them into an album by photographing each piece.
Alternatively, you can use an app like Artkive to create framed mosaics or photo books. They offer free shipping in the continental U.S. You can also purchase an annual membership with unlimited Cloud Storage.
4. Co-Read with Tablets
In 2012, the Joan Ganz Cooney Center issued a piece about co-reading. E-readers have taken off, and many people today read using an iPad or Kindle. One thousand two hundred parents were surveyed about their attitudes and practices toward reading books with their 2-to-6-year-old children. Many parents who use a tablet to read reported positive benefits of co-reading with their children.
While I will always argue that print books are best, any reading is still good! I use my Kindle when traveling, and my son used to love the Boosk available on his Kindle Fire in the Amazon Kids App. 
Kids who see their parents read are likelier to read and enjoy reading themselves! So, if you're going to co-read on tablets, be sure your kid knows you're reading and not playing games!
Better yet, read e-books with them and teach them how to access and read e-books on their own! Most local libraries have e-book options for kids. 
5. Get Robotic
Robots are a tremendously techy way to play! Many build-your-own robot kits are available at stores like Target, Walmart, and Amazon.
The New York Times has recently released their picks of the best robot kits for beginners, including one for kids as young as four!
Many robot kits pair with your device, which you use as a controller. Another great techy option in line with robots is drones with cameras!
Updated September 17th, 2023, by. L. Elizabeth Forry