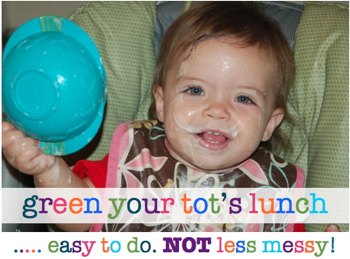 In the crazy chaotic universe that I spin in, I definitely have a tendency to lean toward what's most convenient. Sometimes that just doesn't gel with what I feel I should be doing — or want to be doing.
Take going green for instance. With all the information out there, it might seem like a downright impossible task. Even though we all know we should.
So if you're feeling overwhelmed, start with lunch. In honor of Earth Week, today's blog post is 5 easy ways to green your kids' lunch (and yours!).
1) Shop local. I don't mean your local grocery store chains – – I mean your local farms and farmer's market. The produce you buy from a farmer's market is as fresh (and therefore as tasty!) as you can get it. Because it's not traveling long distances, produce is reflective of the seasons and is much more environmentally-friendly, too! Use Local Harvest to find a farmer's market near you.
2) Skip the brown bag. Invest in reusable lunch containers for you and your kiddo. Not only will you avoid possible bag ripping, you can also keep fresh foods at the correct temperatures. My favorite boxes/bags? Skip Hop Zoo Lunchies they offer styles that are functional with fabulous style.
3) While you're using a reusable bag, use reusable containers. Did you know that we could eliminate 3.5 billion pounds of lunch garbage every year if we used reusable bags AND containers? Invest in BPA-free containers – – including sippy cups and water bottles.
4) Drink your water straight. Essentially, forgo the packaged water bottle. Use reusable water filters and drink your water straight from the tap. Purification systems like Brita can filter your tap water if you don't like the taste of your tap water (note – don't confuse TASTE with water quality). If you do buy bottled water, be sure you properly recycle.
5) Skip pre-packaged when you can. Those individually wrapped and portioned mini-bags of baby carrots might seem more convenient, but it's healthier for everyone (you, your kids and the environment) if you portion and package produce in reusable containers. If you're shopping at your local farmer's market they're not likely to come individually portioned anyway! And they'll be MUCH fresher.
How are you and your family celebrating earth week?