Is your little paleontologist crazy for KneeBouncers' Dinosaur Shape Match Game? Then try this DIY Dinosaur Dig tabletop game for interactive sensory play. It's a clever mash-up of hands-on activity and color identification that extends the play and learning!
Here's what you'll need:
A box or large plastic tub.
Paint brushes of various sizes
Small plastic dinos in various colors
Large craft sticks or a plastic spoon
Step 1
Fill the box halfway with sand, leaving ample room for digging.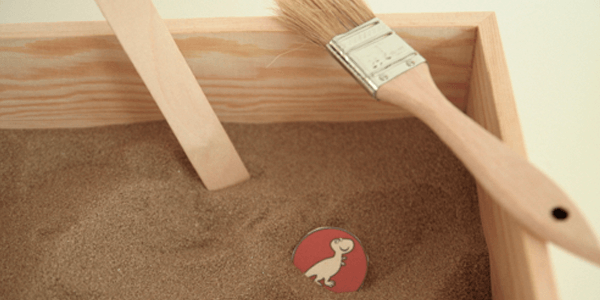 Step 2
Bury the dinos in the sand so your little one can excavate them!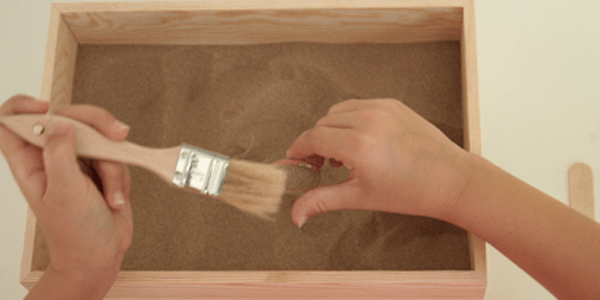 Step 3
Have your child use a craft stick, the paintbrush, or even their hands to dig for dinosaurs. Sensory play engages multiple senses building a network of neural pathways!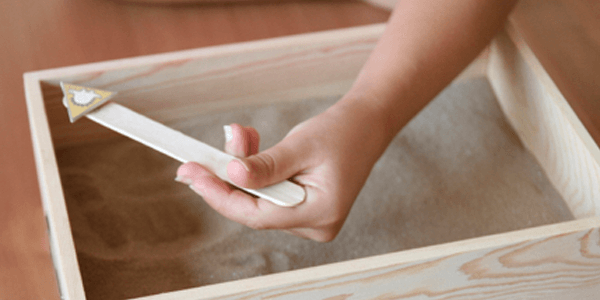 Extend the Play
Have your child search for a specific color or type of dinosaur
Add plastic bones
Add funnels, cups, or other digging tools
Take it outside to the sandbox or in a kiddie pool for a more extensive excavation area
Additional Sensory Play Ideas
If your toddler loves hands-on activities and sensory play and you don't mind a little mess now and then, allowing them to engage in a variety of sensory play activities is an excellent way to stimulate their brain.
Updated April 11, 2023, by L. Elizabeth Forry