GET INFORMED: We are not at all comfortable that a child could inadvertently spend your money nor are we comfortable that they be subjected to advertising that is meaningless to them and potentially unsafe. Many people and companies have approached us with on-site and in-app advertising opportunities and we continue to decline. Why? It's simple: we believe that all children should be free to play safely. In app and in-game advertisements allow your child to too easily maneuver from the app into potentially unsafe territory online. It's why we'll never do what some other developers are…. If you buy a subscription or app from us, access to play safely is exactly what you get. Plain and simple.
WHIP UP SOME GARLIC BREAD: Did you know garlic promotes the well-being of the heart and immune systems with antioxidant properties and helps maintain healthy blood circulation? Plus, it's delicious on fresh-baked bread. Add some Lycopenes by having your kiddo dip in their favorite tomato sauce!  Grab a baguette from your favorite bakery and whip up this fab recipe from Real Simple.
MAKE UP YOUR OWN GAME: April is the official Let's G.O. Month (Get Outside Month!), spearheaded by Children and Nature Network. They're hosting the CliffKid Backyard Game Contest. So grab your kiddos and their friends, GO OUTSIDE and create your own game! Who knows? You kid could win a $10,000 scholarship. Not to mention you might just be the coolest family on the block for creating a brand-new super fun neighborhood game.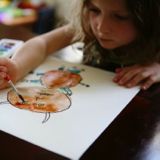 CREATE A WILD THING: Picture Books are fabulous art inspiration for kids because the illustrations are always amazing. Check out this Wild Thing Watercolor tutorial over on Classic Play. It kicks off their new art school column. Make your own Wild Thing or use your child's favorite picture book to create art. You can really use any art supplies you have lying around the house …