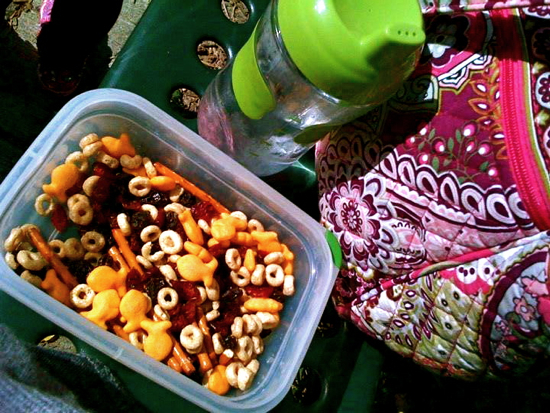 It was a gorgeous fall day today: sunny, cool but not chilly, and there not one place we HAD to be all morning long. Don't you love days like that?
Naturally, we decided to hit the playground.
Before heading out, I opened up our snack drawer and let the Bug know we were going to make our own trail mix to munch on for snack at the park. I gave her a plastic container and said she could fill it with all her favorite things from the snack drawer: goldfish crackers, pretzels, craisins, yogurt-covered raisins, cheerios, granola and whatever dried fruit I had laying around.
You would have thought I had given the kid keys to the candy store. She got a kick out of measuring (the big cup for things she liked a lot, the little cup for things she liked a little), mixing, and making "her special stuff." I was curious to get a little insight into her decision making process, so we discussed how she was making the trail mix. I would prompt her by asking questions like "How could we make the trail mix more colorful?" or "What are you going to add after you put in the pretzels?"
I'll admit. There was a little snack envy happening on the playground come mid-morning.
Give this idea a try next time you have a few spare moments in the morning. Not only does this activity entice your little one to make healthy snack choices, it gives them an opportunity to "learn" and practice math skills (measuring), express opposites (things they like and don't like), name their colors and verbalize directions in a 'recipe.'
Who knew trail mix could be so fun — and educational!?
PS: It's also a GREAT play date or party idea.