Earlier this fall, KneeBouncers announced a commitment to promoting the importance of play (see Benefits of Playing with Your Child). No better time to spread the play cheer than the holiday season!
If you're still looking for a few gifts this season (the countdown is on!), here are 10 ideas that will keep the kiddos — and kiddos at heart — playing all year long.
KneeBouncers Membership: Ok, I admit this is a shameless plug. But if you love playing KneeBouncers with your kids, imagine how much your niece, nephew or second cousin's little one will love it too? Fun + learning? A win for mom, dad and kiddo. ($10 membership; save 50% on annual + 2 free months option available, too).
Kiwi Crate: Have you seen this yet? A crate full of imagination delivered to your door! Enjoy monthly projects that spark creativity and curiosity for kids ages 3-6. Fun themes like things that grow or dinosaurs. Like KneeBouncers online games and apps, I love that each crate encourages different types of learning! ($19.95 per month)
Tegu Blocks: Don't let their simplicity fool you. These magnetic wooden blocks provide hours of amusement! Yes, I did say magnetic. Science, engineering and art all wrapped up into one funtastic time. Even though this isn't a game per se, you can turn it into one for a fun family architecture challenge night. Great for kids 2- 102+ (Sets run from $30 – $150).
Crazy Forts: So, the blanket fort is getting a make over. Have your mini-me create castles or a cozy home or any whimsical fort with this fun kit. Comes with structural materials and ideas — just add the blanket. I know. The parents may like this just as much as the kids. That's why I think this is a great 'whole family' gift option. ($45)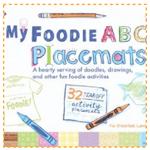 My Foodie ABC Placemats: Who says you shouldn't play with your food? These fun, tear-out placemats will not only introduce terms like locavore and farmers market, they'll keep little minds and fingers active at the dinner table. Whether your dining out or at home. Also a great way to keep itty bitty ones occupied while you're trying to get dinner on the table… ($10)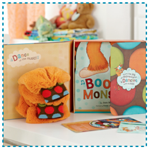 Boogie Monster Dance Kit: This might seem a little silly, and it is. But my 2 year old received this as a gift and loves it. The book, monster leg warmers and CD set keep her grooving all afternoon. And what is play if it's not the ability to shake it? All songs recorded by Recess Monkey, quickly becoming a new fav in our house. ($36)
Green Toys Tool Set: Who says building is just for boys? Green Toys has a fab tool set out that will encourage even the most twirly whirly girl to give fixing something a try. And let's be honest, who's preschooler isn't asking about how things work. Another toy that inspires play AND learning. The kit comes in brown, blue and red too. ($25)
What are some of the fantastic toys in your home that help inspire play?