Love play as much as we do? Then you'll really love these five blogs, all of which are dedicated to promoting the importance of play. Grab a cup of coffee and start reading!
Classic-Play: A one-stop-shop for ideas and inspiration for how to live life playfully. They have a blog portion of the site which is updated daily, and an issues page where you can explore a topic through the eyes of some pretty fabulous artists, writers and crafters. We love their Creative Family series, which features "really cool, genuinely lovely, thoughtful folks who inspire us by simply being themselves."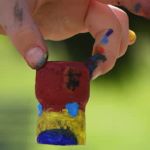 Irresistible Ideas for Play-Based Learning: This Australian blog will nab your attention with it's irresistible photography, and keep you reading with all of tips! While the blog is designed for preschool and early elementary educators, parents can glean a lot of great information. Some of our favorite posts? Making an Irresistible Play Space and their killer Moon Sand recipe.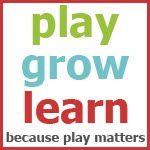 Let the Children Play: Jenny, an Australian early childhood educators, started Let the Children Play to share her ideas and passions for play-based learning, progressive education, outdoor education and nature play. She blogs about things like how preschool materials grow on trees (didn't you know that?) and how play develops early literacy skills.
The Playborhood: Mr. Rogers meets the blog world! The Playborhood is a blog collective written by parents of babies and toddlers that are dedicated to bringing back the play. We like their ideas for Huntopoly – a neighborhood bonding game and how the future of digital media and play will intersect.
Quirky Momma: Kids Activity Blog: Another blog collective — dedicated to sharing fun activities for facilitating your child's engagement in play. You'll find everything from fizzing sidewalk paint to touchy-feely sensory tub ideas. Each Thursday, Quirky Momma co-hosts the It's Playtime Link Up, a great opportunity to find innovative play ideas all in one place (or share your own ideas).
What play loving blog do you catch up with daily?
This post is part of KneeBouncers' new Bounce, Play, Learn! Initiative- Promoting the Importance of Play! Celebrate play at
KneeBouncers.com.