If your house is anything like mine, you go through a lot of paper towels and probably end up with a lot of empty tubes. Paper towel tubes are the perfect recycled art supply! You can make nearly anything with a paper towel tube and little creativity!
Try one of these creative ideas if you need a fun rainy-day craft!
Paper Towel Necklaces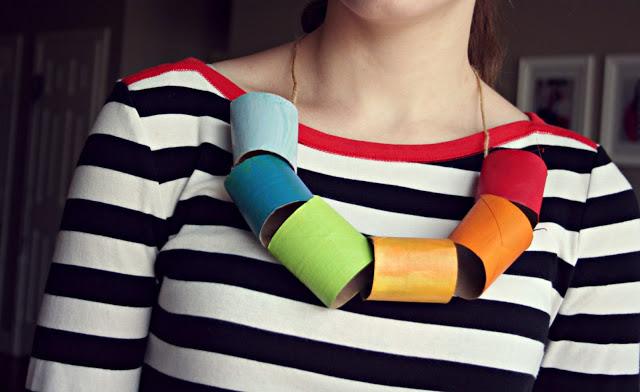 This adorable idea from Eighteen25 is easy and fun to make!
Supplies
Paper towel rolls
Scissors
Ribbon or string
Paint
Paintbrush
Instructions
Cut the rolls into 2″ sections
Paint various colors
Once dried, thread them on a piece of string
Paper towel tube necklaces are an excellent way to develop color recognition, work on patterns, and practice counting.
Tubular Owls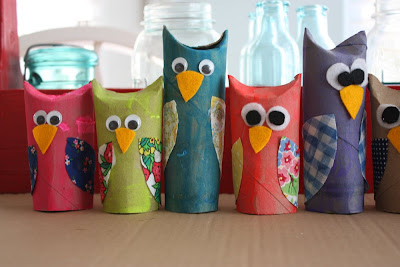 These adorable little owls are from Fresh and Fun. Your child's creativity can soar as they experiment with colors, patterns, and shapes. Resist the urge to "correct" your child if they place the beak at the bottom or add three wings.
Art projects should be about the process, not the finished project! To learn more about crafting with kids and the importance of open-ended art for young learners, check out my book, 50 Things About Crafting with Preschoolers.
Supplies
Paper towel rolls
Scissors
Paint
Paintbrush
Glue
Googly Eyes
Fabric Scraps
Instructions
Cut the rolls in half and paint the desired colors
Allow them to dry
Once dry, push the tops in to make owl ears
Use glue to add googly eyes
Cut wings and a beak from the fabric scraps and glue
This adorable craft is the ideal recycled art craft because it uses so many reusable pieces you probably have around your home already!
Paper Towel Roll Trees
Use excess paper towel rolls any time of year to make these adorable trees! This crafty idea is from MW Craft Studio. Watch the full tutorial on above!
Supplies
Depending on the type of tree your child is making you will need different supplies but the basic ones needed are:
Paper towel rolls
Scissors
Brown paper bags
Colored construction paper
Glue or tape
Instructions
Depending on your child's age you may need to prep some of the supplies first. However, older preschoolers and kindergartners can practice their cutting skills with pre-traced leaves.
Attach the brown paper bag to one end of the paper towel roll
Use a marker to draw branches on the bag
Cut the branches out
Trace or pre-cut flowers and leaves
Encoruage your child to glue the flowers and leaves on the tree
Paper Towel Sandcastle
This adroable little project from Make Early Learning Fun is the perfect recycled art summer project! This simple project is sensory loaded and only requires a few supplies!
Supplies
Paper towel rolls
Scissors
Glue
Craft Sand & glitter (optional)
Paper plates
Instructions
Cut the paper towel rolls to look like a castle turret
Cover one paper plate in sand and glitter
Coat the rolls in glue
Roll the glue coated rolls in the sand
Allow the rolls to dry then glue them to the plate
Your child can jazz up this project by adding seashells, small ocean creatures, or making water from tissue or construction paper.
Updated May, 18, 2023, by L. Elizabeth Forry