Snowy, cold February got you stuck inside? These five great picture books about winter and snow are perfect for snuggling for a cozy afternoon read!
Red Sled by Lita Judge

In this almost wordless picture book, a host of woodland creatures take a child's sled for a nighttime joy ride. Their whimsical ride is gorgeously depicted in bold watercolor, complemented by humorous expressions and pitch-perfect sound effects. With a timeless tone and classic characters, RED SLED will become a wintertime favorite.
The Snowy Day by Ezra Jack Keats
In 1962, a little boy named Peter put on his snowsuit and stepped out of his house and into the hearts of millions of readers. The Snowy Day transformed children's literature with its pioneering portrayal of an African-American child and the charming story and artwork that won it the Caldecott Medal. Fifty years later, Viking proudly celebrates Peter's adventure in this very special edition. Featuring eight pages of bonus material and a festive cover, this oversized edition of Keats's beloved book is a must-have.
Owl Moon by Jane Yolen
A girl and her father go owling on a moonlit winter night near the farm where they live. Bundled tight in wool clothes, they trudge through snow "whiter than the milk in a cereal bowl"; here and there, hidden in ink-blue shadows, a fox, raccoon, field mouse and deer watch them pass. An air of expectancy builds as Pa imitates the Great Horned Owl's call once without answer, then again. From out of the darkness "an echo/ came threading its way/ through the trees." Schoenherr's watercolor washes depict a New England few readers see: the bold stare of a nocturnal owl, a bird's-eye view of a farmhouse. In harmony with the art, the melodious text brings to life an unusual countryside adventure.
White Snow Bright Snow by Alvin Tresselt
When the first flakes fell from the grey sky, the postman and the farmer and the policeman and his wife scurried about doing all the practical things grownups do when a snowstorm comes. But the children laughed and danced, and caught the lacy snowflakes on their tongues. All the wonder and delight a child feels in a snowfall is caught in the pages of this book — the frost ferns on the window sill, the snow man in the yard and the mystery and magic of a new white world. Roger Duvoisin's pictures in soft blue half-tones with brilliant splashes of yellow and red emphasize the gaiety and humor as well as the poetic quality of the text.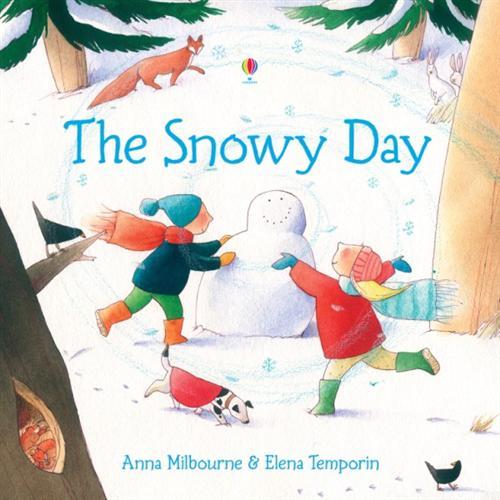 The Snowy Day by Anna Milbourne & Elena Temporin

This is an enchanting seasonal title in the rapidly expanding "Usborne Picture Books" series, which introduce the youngest of children to engaging subjects in a friendly and informative way. Young children will adore following the icy delights of a snowy day, from sparkling frost to pretty snowflakes and sleepy squirrels to frozen frogs. Elena Temporin's vivid illustrations evoke all the magic and excitement of a winter's day.