Happy St. Patrick's Day! Here's a round-up of fun things to make and eat to celebrate the luck 'o the Irish!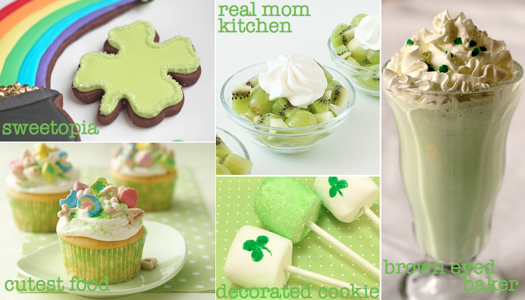 Sweet Treat Ideas: Fun cookies ideas from Sweetopia; Lucky Charm Cupcakes found on Cutestfood; green fruit salad from Real Mom Kitchen; Shamrock Shakes from Brown Eyed Baker, and marshmallow pops from The Decorated Cookie.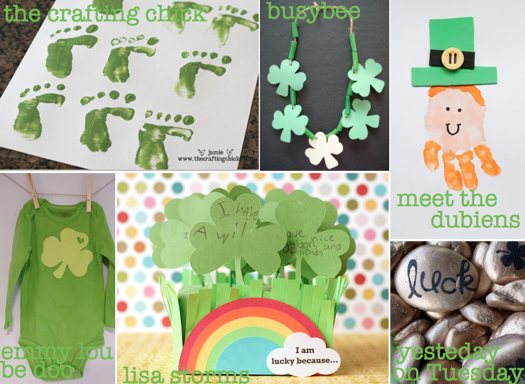 Things to Make: Leprechaun tracks from The Craft Chicks; Shamrock onesie from EmmyLouBeDoo; hand print leprechaun from Meet the Dubiens; Shamrock necklace from BusyBee Crafts, I am lucky craft from Lisa Storms; and make your own luck from Yesterday on Tuesday.
Reader Celebrations: Many of our readers shared their favorite St. Patrick's Day celebration ideas earlier this week. Here are some of our fav traditions:
Alexandra: We sit down and go through baby pictures and tell the kids why they have their names and the story of their birth. We did this because when my son was born we gave him an Irish name hoping for luck with his premature birth. He came home on st pattys day. we had almost lost him a few times and feel very blessed to have him, his sister eleven months after him and one on the way come July.

Deb: Green pancakes for breakfast.

Whitney: A leprechaun comes to our house.and runs through and makes a big ole mess every year…. he spills the lucky charms, tips chairs over, toilet papers the kids bathroom haha. The kids get a kick out of waking up to what he did.

Brittany: We taught my son who was almost two last year to say "Luck of the Irish Go with Ya"

Shelley: Leprechaun traps and corned beef and cabbage!

Colleen: My mom used to dye our milk green, lol.

Catherine: I love making corn beef & cabbage with my mom! This year me, my mom, my son (1) & step son (6) are all gonna make a big pot together! Yummy!!
How are you celebrating this weekend?