Kids love colors and rainbows. Bright colors are attractive to children's eyes and easily grab their attention. If you have a kid who loves cooking projects and art, then this stained glass jello project is the best of both worlds!
This fun and funky project from The Food Librarian is where snack meets art! The mixture of colors and light and dark is also an excellent science project!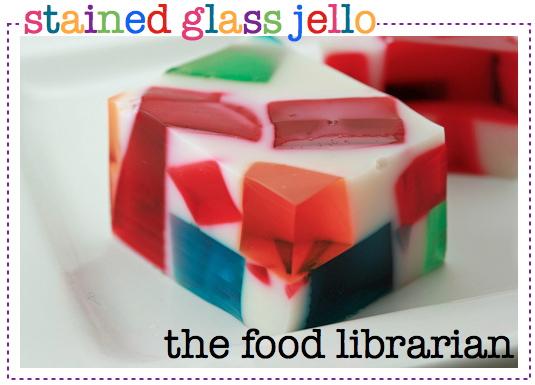 After your colorful Jello snack time, follow up with KneeBouncer's It's Colorific Game. The game will help reinforce all the colors your kiddo has identified in their snack!
Instructions
You can read the complete set of directions at Food Librarian. But all you need to make this colorful snack is four 3-ounce packs of different colored Jello, unflavored gelatin, sweetened condensed milk, and boiling water.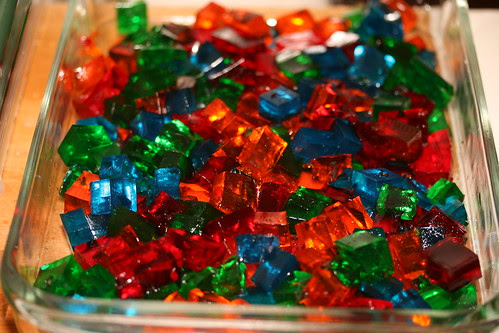 First, make the colored gelatine in four separate pans, chill, and cut into cubes.
Second, mix the colored cubes in a 9×13 pan and add boiling water and unflavored gelatin.
Third, add sweetened condensed milk and chill overnight.
Finally, once chilled, cut into blocks and served.
Other Fun Ideas Where Snack Meets Art!
If stained glass Jello is a hit and you want to try out more rainbow-inspired snacks, try one of these beautiful and colorful ideas!
I have to admit, I have tried this before, and it didn't turn out as stunning as the picture, but I am not an avid baker or chef. Despite the colors being a bit muted, mixing and baking with my art-loving son was still a lot of fun!
Extend the fun by mixing colorful frosting to go along with your rainbow cake!
Rainbow Fruit Kabobs from Lil Luna
This has always been one of my favorite projects with kids in preschool. It's easy to do, healthy, and helps children develop the concept of patterns! As you build the skewers, talk about the benefits of each colored fruit!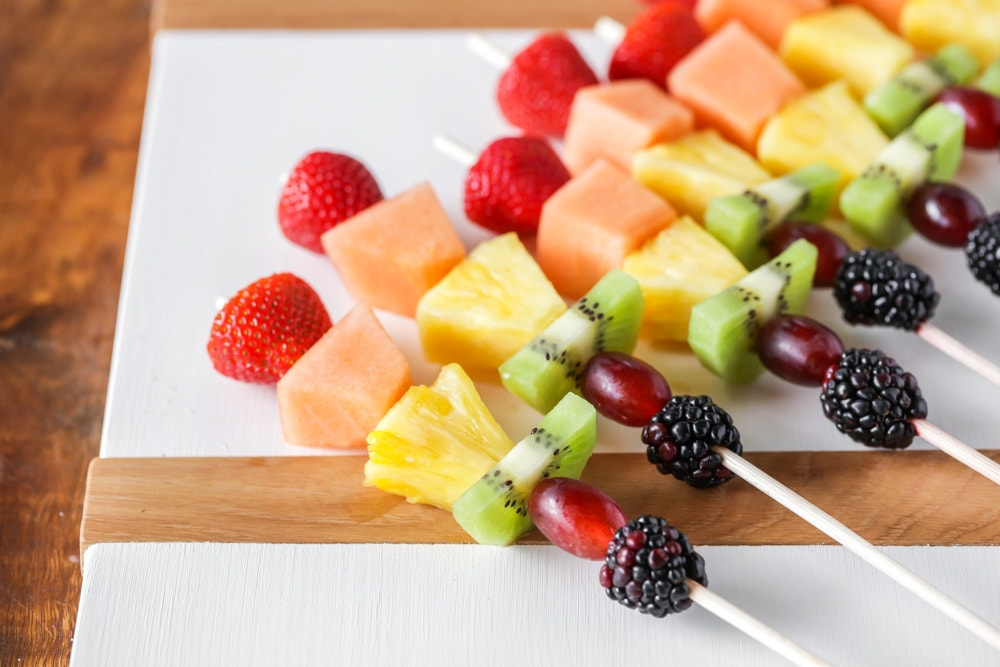 Red: Improves skin and eye health.
Orange: Improves eyesight and boosts healthy skin
Yellow: Boost the immune system that keeps us from getting sick
Green: Reduces toxins in the body and is beneficial for your liver and internal organs
Blue & Purple: Boosts heart health and keeps the body healthy
Everyone loves bagels! And these delicious rainbow bagels are a fun twist on a kid favorite! This fun baking project is a bit more complex than others and requires a good hand or, preferably, a stand mixer. You'll also need several bowls to let the dough rise.
Updated September 17th, 2023, by L. Elizabeth Forry