Your child's first day of preschool or childcare is a big deal! If this is their first time attending childcare or preschool, there are likely anxious feelings on both your end and theirs. However, the first day of childcare should be exciting! Whether your little one is an infant or three or four years old, sending them into someone else's care is significant.
The first day can be overwhelming for first-time parents and older kids attending school for the first time. Starting preschool is a significant change in your child's routine! Therefore, we have some tips to prepare everyone for the big day!
Visit Ahead of Time
Preschools and childcare centers will allow you to visit ahead of time, tour the classroom, and meet your child's teachers. If you have an older child starting mid-year, plan a play date or two where they can visit the class for an hour or two while you stay close by in the building. 
Visits can help assuage any nerves you or they may have about their new environment. Visits allow you to ask any questions or voice concerns you might have before your child's first day of preschool. 
Even if your child is an infant starting childcare for the first time, you can still take them to meet their caregiver. It will also allow you to see the classroom in action and watch how teachers interact with the babies or children.
Use a Transition Item
Transition items are items your child brings from home that they find comforting. It could be a favorite blanket, stuffed animal, or toy. Some children like using a new backpack that is for school only. Others do well with a small picture album with pictures of themselves, their families, and even their pets!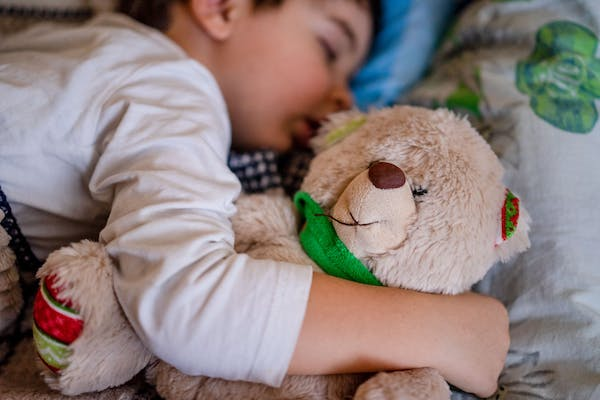 Transition items can go back and forth with your child every day. They can look at or hold the item when they need comfort from home. Items like a small pillow, blanket, or stuffed animal can help children struggling to nap in a new and unfamiliar setting.
Talk to your child's teacher about the school's rules on bringing in toys from home. Some childcare centers only allow home toys for use during rest time. Many centers will hang up a photo of your family in your child's cubby or somewhere in the classroom where they can see it anytime they like!
Plan A Goodbye Routine
Saying goodbye is often challenging for parents and kids. Even kids excited to start preschool may struggle at drop-off initially. Plan a goodbye routine ahead of time, and then stick to it, even if there are tears!
An example of a routine might be, "Ok, when it's time for Mommy to leave, we'll do three hugs, two kisses, and then a high-five." Practice it beforehand and let your child know you (or whoever is picking them up) will return after school!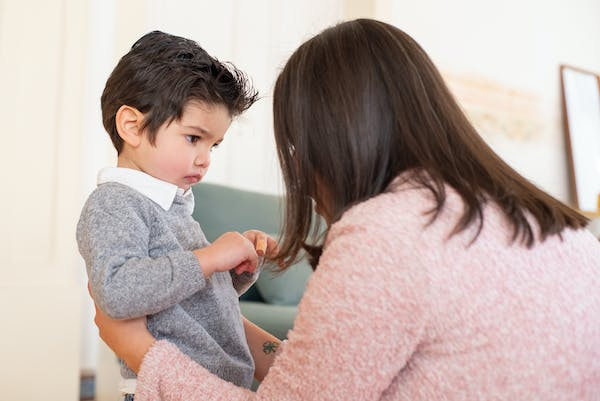 If you're child cries, we know it's tough, but do not linger and do not go back into the classroom. Lingering or returning if you hear them cry only reinforces that if they cry, you will stay, and an unhealthy habit will form, making drop-off more of a challenge each consecutive day.
Instead, give one more hug and kiss, reassure them you'll be back after school, and leave. Wait about ten minutes, then call the classroom to check on them. Chances are, after ten minutes, your child will be busy playing and perfectly content! 
P.S. It's ok for you to cry, too; just don't let your child see that you're sad, or they will likely feel sad and anxious, too!
Build the Excitement!
Your child will feed off your energy, so if you're excited for their first day, they will be too! Children can read the energy of the adults around them. If there are feelings of worry and sadness, they'll pick that up; therefore, even if you are worried and anxious, fake it until you make it and show your child excitement!
If your child is feeling anxious about school, try role-playing at home. Take turns being the teacher and the student, or use dolls or stuffed animals to role-play.
Another way to build excitement is to buy something new for the first day of school. It could be a new backpack, shoes, or outfit. Preschoolers don't typically need school supplies, but purchasing something new for special occasions is always fun.
Read ALL the Information the School Sends
As a former assistant director and teacher, I cannot emphasize enough how important it is for parents to read the enrollment package and policy handbooks they receive. These documents will answer most, if not all, of your questions, and they will prepare your expectations.
You can also review classroom rules or policies with your child, assuming they're old enough to understand. Sharing the classroom expectations with your child sets them up for success!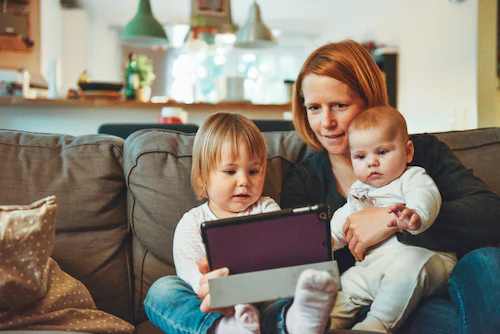 Your school or center may have specific food requirements, for example, no nuts. They may require a doctor's note for medications or ask you to provide sunscreen. The better prepared you are, the calmer you will feel for your child's first day of preschool.
Label Everything
Label everything about your child that you send to school. Guaranteed there will be at least one other child in the class with the same blue and yellow unicorn water bottle from Target or the same red Old Navy jacket. Labeling helps the teachers in the case of an ownership dispute and keeps kids healthy because they're not accidentally using someone else's water cup, blanket, or coat.
Whether your child attends childcare so that you can work or they're attending preschool to prepare them for kindergarten, the first day of preschool is a big day! Your child will learn valuable social and emotional skills and build on academic skills learned at home.
We recommend a few books to help you prepare for the big day!
July 15, 2023, by L. Elizabeth Forry