Whether for a birthday party, the holidays, a niece or nephew you want to surprise, or you're looking for gifts or toy ideas for your children, the best gifts encourage play!
Many children's toys have flashing lights, sounds, bells, and whistles. And those types of toys can be entertaining for short periods. But they typically don't spur the imagination and require much thought.
They're also the toys children lose interest in the quickest, primarily if they only serve one purpose. So, when looking for children's gifts, I look for things that require creativity and problem-solving and aren't one-and-done items. Gifts should promote playing with purpose!
What to Look for in a Toy
I usually look for art or science kits when I don't know a child well. Both art and science are open-ended, which allows the imagination to soar. I also try to look for something that can be used more than once, or in the case of art and science, won't be over in 5 minutes or less!
I also aim for gender-neutral items to prevent projecting gender-based ideas and norms on what children should play with onto a child.
All this is not to say I haven't bought my fair share of action figures for my son, who loves them, but I've also purchased him make-your-own bath bomb kits, endless art supplies, and even a Michael Jackson costume complete with a shiny glove.
The idea is to look for something that requires creativity and encourages the child to play. For example, if you know a child loves superheroes, look for a LEGO set or superhero dress-up clothes. If they enjoy all things unicorn, find a paint-your-own unicorn kit! A gift doesn't have to be generic to encourage play!
So, if you're looking for the perfect gift idea to balance play and creativity, we have ten excellent ideas for children of all interests!
10 Fantastic Gift Ideas that Encourage Play
1. Art Supplies
Art supplies are my go-to gift when I don't know what to give a child. Almost every young child enjoys art in some facet. Plus, children can use art supplies in numerous different ways.
Crafting kits or drawing kits are my two favorite options, but it's hard to go wrong when giving art supplies!
2. Magnet Tiles
Magnet tiles are one of my favorite toys as a preschool teacher and a parent. They are so much fun to build and create with, and they teach children geometry simultaneously! Name-brand sets are pricey, but the off-brand ones work just as well!
What's great is that toddlers through elementary school-aged kids can use them, so it's a toy that gets used for years!
3. Dress Up Clothes
Make-believe play is essential for a child's social-emotional development, and dress clothes encourage play across the board! There are tons of options when choosing dress-up items. You can purchase career-based costumes, princess dresses, superhero capes, fairy tale characters, and more!
Halloween is a great time to stock up on dress-up items once they hit the clearance racks! Of course, masks, hats, and other props are excellent too! Any props, clothes, and accessories you can add to your child's dress-up bin or dramatic play area will enhance their play and learning. 
4. Kiwi Crate Subscription
Kiwi Crate is a science-based subscription box. You can gear the subscription to the child's age from infants to 16+.
I used this subscription with my youngest son during the COVID-19 school shutdown to keep him engaged. He loves science (which is not my forte), so this was an excellent way for us to learn together!
5. Bubble Machine
Kids love bubbles. And there are so many ways to play with bubbles. Chasing bubbles promotes gross motor development, popping bubbles develops fine motor muscles, and bubbles inspire magic and creativity!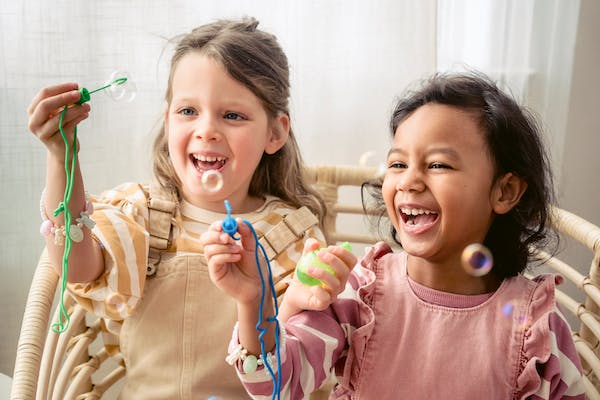 Check out this fantastic list of games you can play with bubbles from Birthday Party Ideas 4 Kids! Parents will love a bubble machine, too, because it means they can stop blowing bubbles endlessly!
6. Crazy Forts
What kid doesn't love building a fort? With Crazy Forts, your child becomes the engineer and architect all in one! This STEM-based toy promotes creativity, problem-solving, geometry, and other developmental math and science skills.
The website has design ideas for developing your child's spatial awareness and ability to read and follow directions. But I recommend letting them free-style first to see what they can design!
7. LEGO Classic Brick Box
LEGOs are the classic STEM toy, and the classic brick box leaves the design field wide open. Kids can create literally anything their imagination inspires.
Playing with LEGOs promotes math concepts like measuring, counting, comparison, and geometry. LEGO kits are also a great idea for a budding engineer! They teach children how to follow diagrams and follow directions.
8. Personalized Doll
Every child deserves a doll that looks like them! These fantastic creations are sold on Esty from Ahsen Toys. The turnaround time is a bit lengthy because each one is custom-made, but they're worth it!
Playing with dolls promotes caregiving skills in girls and boys. It also develops empathy, language skills, social skills, and imagination!
9. Felt Interactive Farm
This felt Interactive Farm toy from My Felt Toys provides multiple ways to play! Your child will develop their own stories surrounding the people and animals who live on the farm!
If your child is more interested in zoo animals, they have an Interactive Zoo too! In addition to developing their imagination, this interactive toy will hone their fine motor skills and promote language development.
10 Gross Motor Toys
Open-ended gross motor toys take the creativity outside! Items like jump ropes, cones, hula hoops, rings, stepping stones, tunnels, and more encourage your child to create their own games.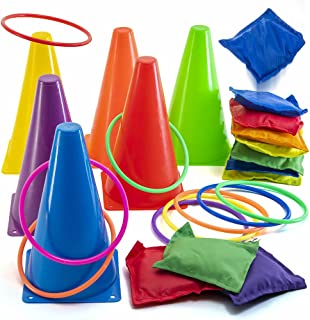 When they create games, they develop an understanding of rules and fairness and develop the social skills needed to interact with others.
Updated September 19, 2023, by L. Elizabeth Forry