Vacations are fantastic opportunities to escape reality, explore new places with your family, or relax and enjoy time away. However, sometimes vacations are stressful, especially when traveling with babies and toddlers. 
Traveling with kids adds another layer to vacation prep and planning, but there's no reason you can't have a successful trip! At Kneebouncers, we're all about playing with purpose, and that's exactly what a vacation is: one ample opportunity to play and expose your child to a world of new experiences!
If you're gearing up to take your baby or toddler on their first big vacation, or if you want some ideas on how to make your next trip smoother than your last, here are some tips on traveling with toddlers and babies!
Follow Your Baby's Schedule
Babies and toddlers still need their routine and schedule on vacation. While slight variations are natural while traveling, don't expect your baby to adapt to a new routine while away.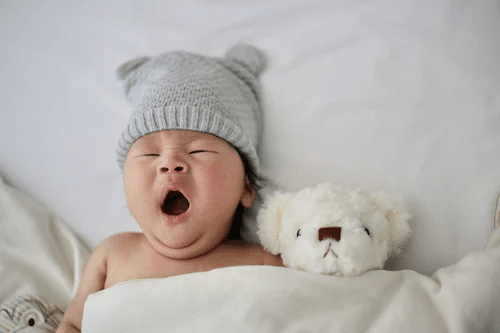 Consider your baby's feeding and napping schedule when planning flights or legs of a car journey, and be prepared for delays!
Pack Medication and a Thermometer
If your child requires regular medication, you'll want to pack it, but in this case, we mean over-the-counter meds like children's Tylenol or seasonal allergy meds. 
The dollar store sells children's acetaminophen, ibuprofen, allergy meds, saline, etc., so you can purchase and pack sealed bottles. And if you don't use it on the trip, you'll have it in stock when you arrive home!
Use Grocery Delivery Services
Use a grocery delivery service like Instacart or Amazon Fresh to deliver food, diapers, and other supplies directly to your hotel. I tend to pack non-perishables like trail mix, granola bars, fruit snacks, etc., in my suitcase, but grocery delivery is an excellent way to get cold items like milk, cream cheese, and OJ or bulky items like diapers and wipes.
Of course, you'll travel with some diapers and wipes from the start, but if you're taking a week-long trip and flying, that's a lot of diapers to pack!
If you can access a car, you can also map out the closest big box store or supermarket. 
Use a Baby Supply Rental Service
If you're traveling by plane or renting a place not equipped for a baby or toddler, consider utilizing a baby supply rental service. No one wants to lug excess items on their vacation, especially if you'll have to pay checked baggage fees for strollers, car seats, and more.
Companies like Rents4Kids and Traveling Baby Company offer parents a more manageable, less bulky way to travel!
It's OK to Use Electronics
It's OK to let your child use electronics while on the plane, waiting at the airport, or in the car. Let them play their favorite KneeBouncer games, and have a few TV shows or movies downloaded in case you lose Wifi.
There will be plenty of opportunities to entertain your kid with adventures on your trip, so don't sweat it if they spend a few hours on the plane with a screen. 
Purchase an Airplane Seat for your Baby
The Federal Aviation Administration (FFA) allows parents to hold a lap infant under two. But do you really want to hold a baby or squirming toddler the whole flight? Even a short two-hour flight can seem like an eternity if you have a kid in your lap.
Plus, having your child secured into an individual seat is safer. Check with your airline for seat specifications to ensure your car seat or safety harness will work with their seats.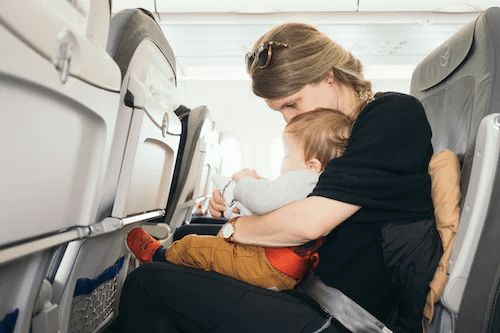 Check out the CARES safety harness if your child has outgrown using a car seat on the plane. We purchased one for my eldest and used it several times over the years. 
Find the Teachable Moments
Vacations with babies and toddlers are opportunities for exploration and learning! The beach is an excellent sensory experience. Visiting a major city allows your toddler to see, hear, taste, and smell new things!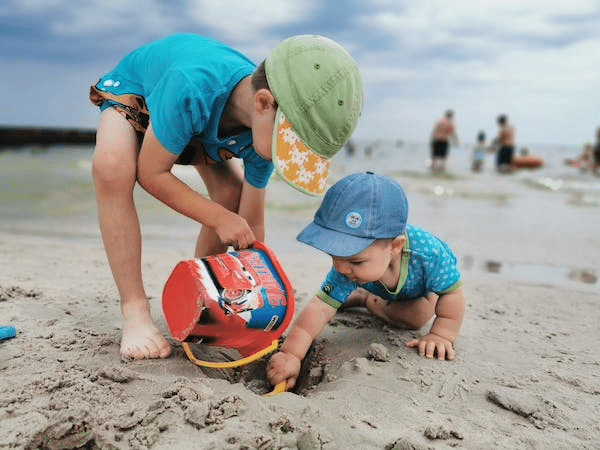 Trips to theme parks with infants allow them to expand their social-emotional development by meeting characters, observing new people, and even riding some rides for the first time solo, depending on their age and height!
Have Fun!
Vacations should be fun, so try to worry less and relax more. Don't expect everything to go as planned. Be happy for the things that go smoothly and take the pitfalls with stride. Chances your toddler isn't going to notice the stressful stuff, but they can read stress from you! So relax and enjoy traveling with your baby or toddler!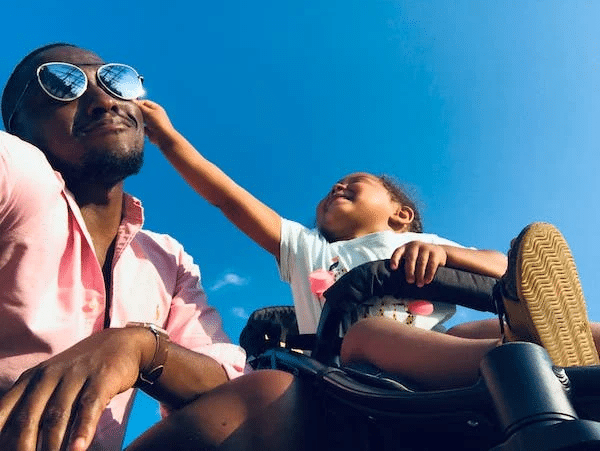 June 7, 2023, by L. Elizabeth Forry