Potty training is a hot-button topic among parents and early childhood educators. From personal experience as a parent and having spent 15 years teaching two, three, four, and five-year-olds, I am here to tell you that no two kids are the same. The best course of action is to go into potty training with a plan, expect that plan to fail, be ok with that plan failing, and be ready to try something else. Your first child might use the potty independently at two while your second still has accidents at four. It will be ok, I promise!
One of my sons was severely delayed with potty training. Everywhere else, he was developmentally on par by four. I was frantic, despondent, and downright terrified he'd never get it. But he did, so I can assure you will get there. It just takes more patience with some kids. Whatever happens, and however long it takes, your child's ability to use the toilet does not reflect your parenting skills or your child's intelligence.
You can begin prepping your child for potty training as young as a year or 18 months, but don't expect them to have the self-control or emotional development to use the potty independently. There are some telltale signs that most experts agree on that indicate your child is ready physically and emotionally to toilet train.
Signs of Readiness
Indicating discomfort with a wet or dirty diaper
Hiding to pee or poop
Showing interest in others' use of the potty or copying their behavior
Having a dry diaper for two or more hours at a time
Sticking to a regular pattern of bowel movements
They can get to the potty independently
Able to pull pants on and off
Able to sit down on the potty without help
Waking up dry from naps or nighttime sleep
Your child does not need to show all these signs to start using the potty, but they should be able to do most of them. Chief among them is showing an interest in using the toilet, being able to pull pants up and down, and showing discomfort with a soiled diaper.
Do not force a child to sit on the toilet or enter the bathroom. If they resist, forcing them will only complicate potty training, and you will create unnecessary anxiety and stress.
Helpful Tips for Parents
Talk about using the potty; make it a regular thing to discuss
Allow your child to see you or your spouse use the toilet
Use a portable potty and put it in their play area, roll play with the baby dolls or stuffed animals
Keep clothes simple when potty training. Fancy dresses, overalls, tights, etc., are problematic for children to take on and off themselves.
Read books about potty training; the classic Everyone Poops by Taro Gomi was a favorite in my home.
Keep it as stress-free as possible.
Stay consistent. Keep trying the same plan and routine for a week or two before trying something new.
Always have more than one change of clothes when you leave the house.
Talk with your child's preschool or childcare; they may have some helpful hints and can emulate, to the best of their ability, what you're doing at home.
Use rewards charts or prizes if needed. My youngest was only allowed tablet time if he sat on the potty. Your little one can play KneeBouncer games while sitting on the potty!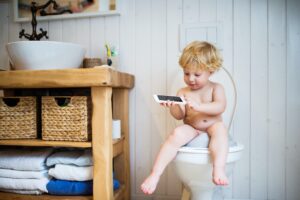 Styles of Potty Training
There are different methods and styles of potty training. Not all children are going to respond to each style the same way. Before you even start potty training, the smartest thing to do is to read about the different methods and styles and discuss with your partner which ones fit your lifestyle best.
Child-oriented potty training is a more laid-back approach and works best for kids between two and three. This is perhaps the most developmentally appropriate style of potty training.
Parent-led potty training requires parents to make a schedule and encourage their child to follow that schedule of when to use the potty. The downside is they may not learn how to recognize the signs of needing to go on their own.
3-Day Method – Children should be close to two. It requires three days where you have NOTHING to do, and there are typically a lot of accidents. It is a zero-diaper situation.
Elimination Communication is a method used worldwide in which parents learn to interpret their infant's signals of needing to use the toilet and hold their baby over the toilet to go. Many parents who use elimination communication do not use diapers. This style will not work if you plan on placing your baby in childcare.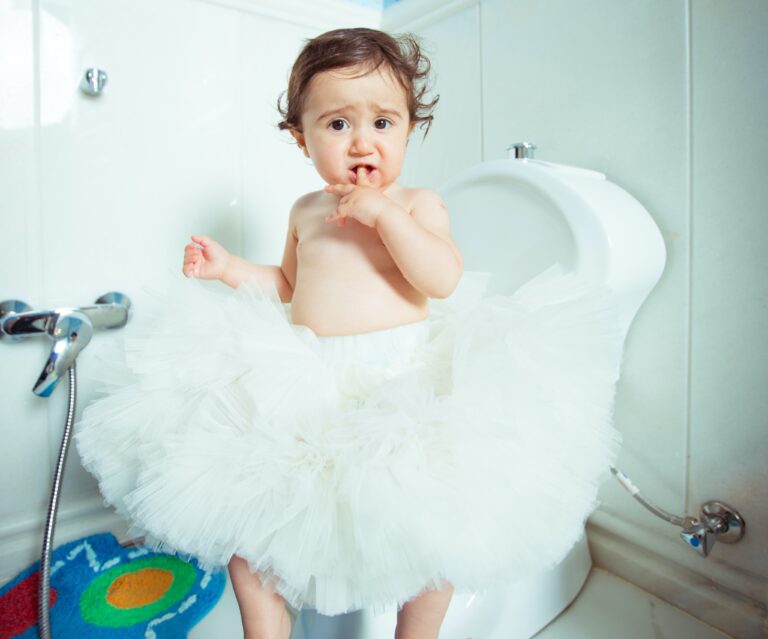 Potty Training Dos and Donts
Do Make sure your child is developmentally ready
Do make it fun and relaxing
Do take time to research different styles
Do encourage your child to use the potty
Do talk to your pediatrician or your child's educator about potty training concerns and ideas
Do have a plan before you start
Don't start potty training during a big transition (new baby, moving, new school)
Don't force your child into a bathroom or sit on a toilet
Don't punish your child for accidents or refusing to use the toilet
Don't compare your children to others (even their siblings)
Don't worry about what other parents say about potty training
Don't lose hope!
Need more potty training tips? Check out the Pull-ups Potty Training Resource Center.
August 12th, 2023, by L. Elizabeth Forry