If you're lucky, you grew up with a great dad, stepdad, grandpa, uncle, or other close father figure. A relationship with a dad is vital to a child's development, but unfortunately, it's not always possible. If you grew up with an involved dad or, conversely, without a dad, you probably recognize the importance of having a positive father figure.
A solid relationship with their dad provides a child with emotional stability, social confidence, enhanced school performance, and more advanced language skills.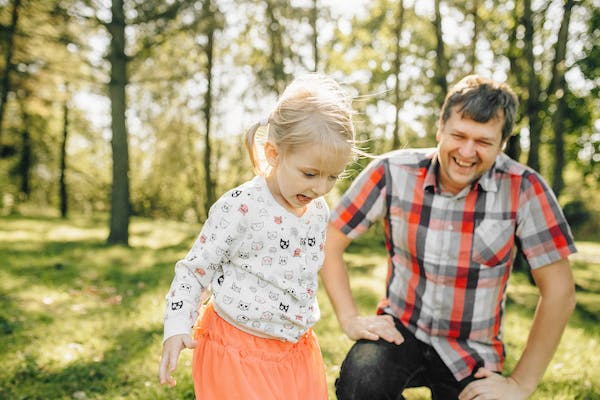 This is not to say there aren't thousands of single moms or same-sex couples who raise amazing kids. Because we know those women do! But, research shows that there are many benefits to a child who bonds with a supportive father or another caring adult male.
Dads often get lumped into the category of Mom's helper. That's because, historically, in most cultures, women have done most of the child-related tasks. In contrast, it's been seen as the man's responsibility to work and provide for the family.
However, a lot of those perceptions have changed. More and more dads have stepped up to take on caregiver roles. While less common than moms, the stay-at-home-dad is now a regular thing.
A 2016 study from the Pew Research Center reported that in 2016, 17% of stay-at-home parents were dads, compared to only 10% in 1989. Today, more men see fatherhood as central to their identity but still feel society's pressure to provide.
Moms still statistically do more child and household-related tasks. But dads have significantly increased the number of hours they commit to housework and childcare since the 1960s. Dads may do less of the childcare, but a father's role in a child's life is just as vital!
Why Dads Are Important
In general, children who grow up with supportive and involved fathers have fewer psychological issues like depression or anxiety, have strong social and emotional skills, and possess stronger self-confidence. These children tend to perform better at school academically, have more confidence, and can handle social problems more adeptly.
Benefits of a Relationship with Dad for Daughters
Dads who provide a secure and loving relationship with their daughters benefit them in numerous ways.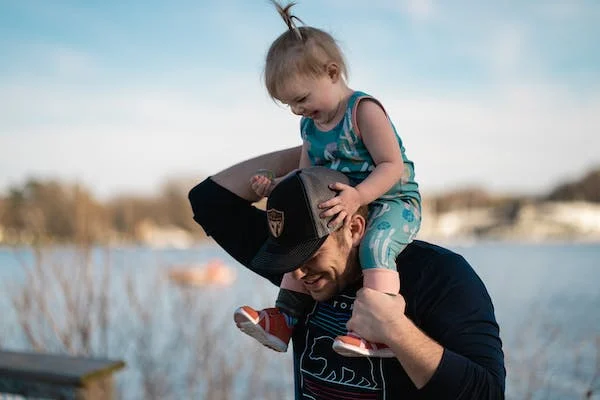 Girls who have emotionally supportive dads are more likely to:
Perform well academically and attend college or other forms of higher education
Feel confident in personal relationships
Have higher self-esteem and independence
Be more assertive but not aggressive
Benefits of a Relationship with Dad for Sons
Boys who grow up with an involved and supportive father or father figure also benefit in numerous ways.
Boys who develop a strong relationship with their dad are more likely to:
Have fewer behavioral problems
Develop stronger emotional stability
Be able to handle stress better
Be less aggressive
Be a more supportive partner and father themselves
Ways to Bond with Your Child
Quality time spent with your child is the most beneficial thing you can do to develop a bond. Not all dads know how to connect with their kids, and the challenge can undoubtedly increase as they grow and morph into individuals with individual interests.
Here are some tips on how to start and continue the bonding process with your child!
Birth to 6 Months
Engage in skin-to-skin contact.
Bottle feed (with formula or expressed milk), change diapers and bathe them.
Sing, talk, and read to them.
6 Months to 3 Years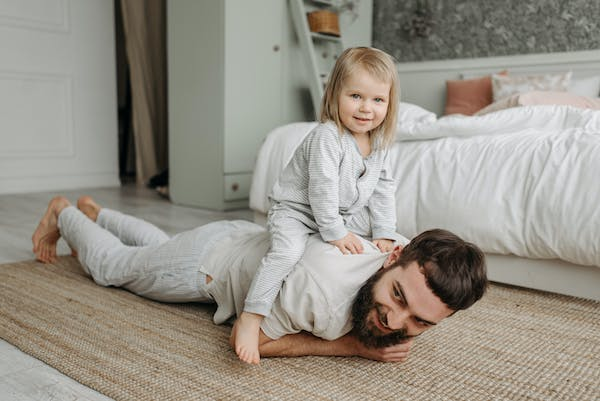 Continue all from the list above.
Play with them! Engage in active and interactive play! KneeBouncer games are a fun way to spend quality time with your toddler!
Discuss emotions
Demonstrate respect for others.
Show kindness and respect to your partner or co-parent. Even if you are not raising your child in the same home, how you treat their co-parent affects your child's development.
3 to 6 years
Continue all from the list above.
Read to and talk with them, and let them start reading or telling stories to you!
Practice loving discipline, not punishment: Discipline is used to teach a lesson.
Follow their interests when playing or planning activities.
Support their accomplishments and effort
6+ Years
Continue all from the list above
Start a hobby together
Let them follow and share their interests, and avoid forcing yours onto them. (They may not want to be a soccer star. They may love art or science instead!)
Learn to listen to them and show them by listening that you are there for whatever support they need.
A relationship with Dad provides numerous benefits to a child. However, if your child's father can't be in the picture, finding another positive male role model, like an uncle, grandfather, group leader, etc., can still provide your child with the emotional support and guidance needed.
The sentiment it takes a village has never been more true than today. Families come in all types of beautiful shapes and sizes, and not everyone has a dad, and that's OK! It takes all of us to ensure our kids have the loving support they need to grow up healthy and loved. But if your child has a dad or you are a dad, do everything possible to foster a supportive relationship!
June 18, 2023, by L. Elizabeth Forry