Is your little paleontologist in love with KneeBouncers' Dinosaur Shape Match Game? Then try this DIY Dinosaur Dig tabletop game for interactive sensory play. It's a clever mash-up of hands-on activity and color identification that extends the play and learning! Summer weather is the perfect time to take sensory play outdoors. There's less mess to clean up, and you don't have to worry about sand all over your floor!
Here's what you'll need:
A box or large plastic tub.
Paint brushes of various sizes
Tiny plastic dinos in various colors
Large craft sticks or a plastic spoon
Step 1:
Fill the box halfway with sand, leaving ample room for digging.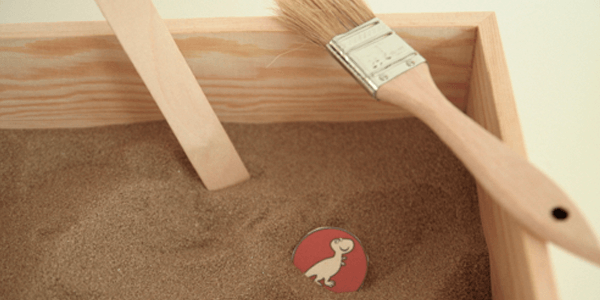 Step 2:
Bury the dinos in the sand so your little one can excavate them!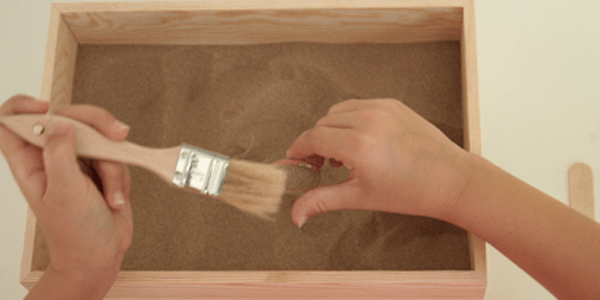 Step 3:
Have your child use a craft stick, the paintbrush, or even their hands to dig for dinosaurs. Sensory play engages multiple senses, building a network of neural pathways!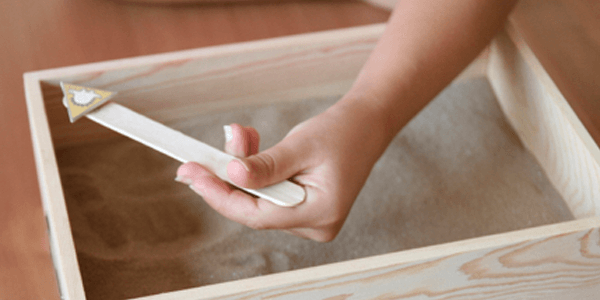 Extend the Play
Have your child search for a specific color or type of dinosaur
Add plastic bones
Add funnels, cups, or other digging tools
Take it outside to the sandbox or in a kiddie pool for a more extensive excavation area.
Additional Sensory Play Ideas
If your toddler loves hands-on activities and sensory play and you don't mind a little mess now and then, allowing them to engage in a variety of sensory play activities is an excellent way to stimulate their brain.
Water – Give the dinos a bath!
Water Beads – Bury the dinos in water beads instead of sand for a different sensory experience. Or you can pretend water beads are dino eggs!
Kinetic Sand – Kinetic sand offers a different sensory experience than standard sand; kids can form and shape it without water.
Playdoh – Make dinosaur fossils and footprints!
Slime – Re-enact the tar bits and exploding volcanoes from the Dino-times!
Fun Foam – Fun foam is moldable like Play-Doh but doesn't try out. It's a fun way to create and mold.
Drawing or Painting – Kids can draw diagrams of dinos or draw or paint dino scenes!
Updated July 31, 2023, by L. Elizabeth Forry