Reading to your baby is one the best things you can do to develop their language and literacy skills. If you're unsure how to pick a book for your baby, we're here to help! Babies love bright colors, simple, bold patterns, textures, and faces.
Soft cloth books or board books are ideal for babies because they can hold and mouth them without damaging the book or hurting themselves! And don't be afraid to read a book to your baby or toddler with words they won't understand because that's how they learn!
April 2nd is known in schools around the world as International Children's Book Day (ICBD). Created by the International Board on Books for Young People (IBBY) in 1967, ICBD is celebrated to inspire a love of reading and to call attention to children's books. But we here at KneeBouncers believe you should celebrate books every day!
So, we've made a list of ten of the Best Books for Babies and Toddlers!
1. Vegetables in Pajamas by Jared Chapman
We all love pajamas, and this book celebrates the joy of picking out your PJs for bedtime!
Book Description: What's the best part of getting ready for bed? Picking out pajamas, of course! There are pajamas for when it's cold and pajamas for when it's hot. Pajamas that are mixed and pajamas that match. Pajamas for sleeping over and pajamas for sleeping in. No matter what kind of pajamas you choose, they'll help you sleep tight.
Click here to purchase or to learn more!
2. The Honeybee by Kristen Hall
This beautifully illustrated book for babies by award-winning illustrator Isabelle Arsenault will have you buzzing for joy!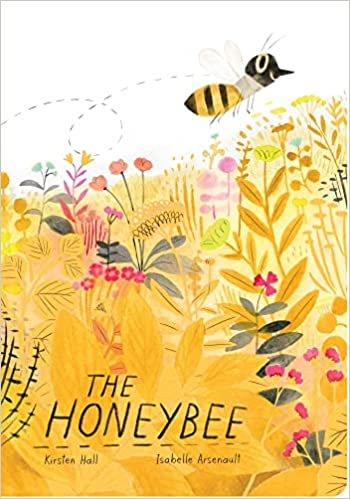 Book Description: Buzz from flower to flower with a sweet honeybee in this gorgeous Classic Board Book from critically acclaimed author Kirsten Hall.
Click here to purchase or to learn more!
3. Eric Loves Animals (Just Like You!) by Eric Carle
Eric Carle is the beloved author and illustrator of The Very Hungry Caterpillar and Brown Bear, Brown Bear, What Do You See?
Book Description: Explore the animal kingdom through the eyes of bestselling author and illustrator Eric Carle with this alphabetized treasury of animal illustrations featuring beloved classic characters and exclusive, never-before-seen art.
Click here to purchase or to learn more!
4. You're My Little Bookworm by Natalie Marshall
Rhyming books are the perfect literacy tool. Rhyming teaches sounds, alliteration, and blends. Plus, it's fun to do! You're My Little Bookworm is an adorable book for babies of book lovers!
Book Description: You're My Little Bookworm is a cute rhyming story that celebrates the love between a parent and child. Each colorful spread features a sweet sentiment—a smart cookie, a gold star, and more—paired with a die-cut shape that provides a tactile reading experience.
Want more nursery rhyme fun? Then check out our videos with fun songs and fingerplays like The Itsy Bitsy Spider or The Ants Go Marching.
Click here to purchase or to learn more!
5. Daddy's Beard by Pete Hinckley
Babies love a good sensory book, and this adorable new book for babies has multiple textures for your baby to explore!
Book Description: Soft or scratchy, thick or patchy, babies love Daddy's beard! In this adorable touch-and-feel board book, little hands can feel beards, mustaches, and more of all types and colors on their favorite person in the world: Daddy!
Click here to purchase or to learn more!
6. Moo, Baa, La, La, La by Sandra Boyton
I can't even begin to tell you how many times I read this book between my two sons! This classic rhyming tale with adorable illustrations is definitely a book for babies that has stood the test of time!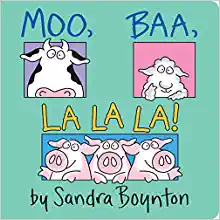 Book Description: Sandra Boynton's wildly popular Moo, Baa, La La La! features her lively and spirited text that introduces readers to animals and the noises they make. A final spread begs the little ones and their caregivers to OINK!, SNORT!, QUACK!, and MEOW! in a noisy animal ending. It's BIG fun from Sandra Boynton in the big, big size of this favorite board book.
Click here to purchase or to learn more!
7. I Am A Baby: A Book Featuring Pictures of Real Babies by Katherine Madeline Allen
Babies love faces, especially other babies, so what could be better than an entire book of baby faces?
Book Description: Photos by Rebecca Gizicki of happy babies and words that encourage make this an irresistible read-aloud for every child and family. A delightful approach to visual learning comes from the author of the critically acclaimed A Kiss Means I Love You and Show Me Happy.
Click here to purchase or to learn more!
8. Look Look! by Peter Linethal
Bold black and white illustrations are ideal for younger infants and will engage their interest and develop eyesight.
Book Description: Look, look! Children run, fish swim, stars shine . . . all for baby's eyes to see. This sturdy board book, full of high-contrast black-and-white cut-paper art perfect for staring at, is just the thing for the eyes of the youngest babies. Striking and stylish, Look Look! is the ideal first board book for babies just beginning to look and learn.
Click here to purchase or to learn more!
9. Baby Touch and Feek Trucks by DK Books
DK Books is a premier children's book publisher with hundreds of excellent titles for babies and kids. We chose this touch-and-feel book because it provides sensory input combined with something all little kids love – trucks!
Book Description: Baby Touch and Feel: Trucks is an interactive and fun way to help your child learn not only words but shapes and textures. Bold, bright pictures and colorful truck-inspired illustrations will be more than enough to keep your baby's attention. This adorable picture book is a perfect first book for toddlers and makes for an ideal baby gift.
Click here to purchase or to learn more!
10. Everywhere Babies: A Book About Everyday Baby Life by Susan Meyers
A delightful rhyming book with adorable illustrations of babies doing everyday things, this is the perfect book for babies!
Book Description: With an irresistible rhyming text and delightfully endearing illustrations, here is an exuberant celebration of playing, sleeping, crawling, and, of course, very noisy babies doing all the wonderful things babies do best. Every day, everywhere, babies are born. They're kissed, dressed, rocked, fed, and completely adored by the families who love them.
Click here to purchase or to learn more!
May 11, 2023, by L. Elizabeth Forry