Kids are praised by adults when they color within the lines. And no doubt, possessing the fine motor control to color within the lines is an achievement! But scribbling is an essential step that shouldn't be overlooked or downplayed. Scribbling is essential to your child's hand-eye coordination, fine motor control, and overall dexterity. 
Before your child learns to run, they learn to walk; before that, they learn to stand. Handwriting follows the same progression. 
First, your child has to learn how to grip a drawing utensil. Then they must learn how to apply enough force to create a mark. After that, they learn how to apply varying degrees of pressure to produce lines, scribbles, and eventually makeshift shapes. 
These steps must occur before your child can draw recognizable images, shapes, letters, and numbers. Scribbling is essential! When we stifle our children by encouraging them to stay on the paper or between the lines, we stunt their ability to develop.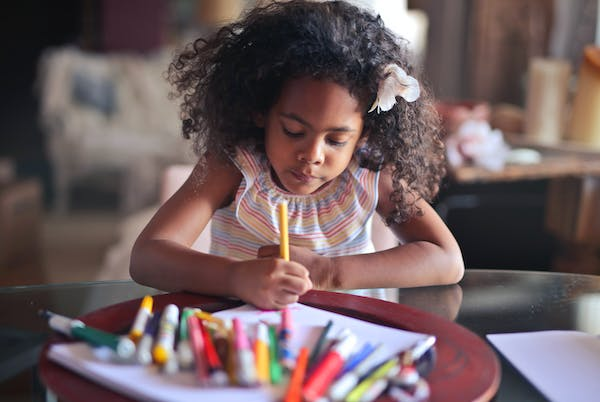 Touchscreen games like KneeBouncer's Magic Screen and Color-Me in the free color mode are one way for your child to develop fine motor skills.
Praising a child for the ability to color within the lines may make them feel good momentarily, but what about the next time when they accidentally go outside the lines? Or, what if their creativity wants to expand beyond the lines, but they fear adults won't approve?
Ways to Develop Fine Motor Control through Scribbling
While scribbling may seem like a simple activity, there are many different ways you can encourage scribbling and, in turn, fine motor control to develop.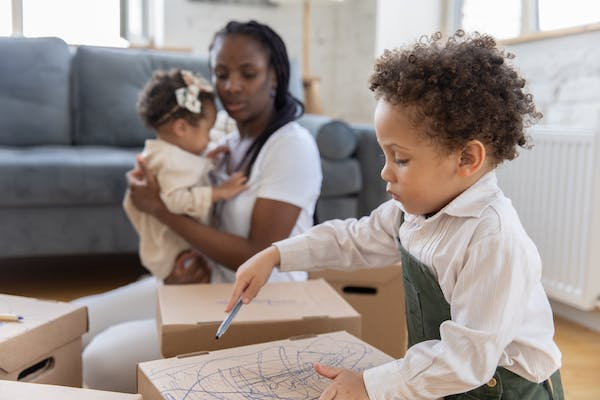 Give your child multiple surfaces to scribble on, like cardboard boxes, the sidewalk, large easel paper, dry-erase boards, or chalkboard paper on the wall.
Provide multiple writing and drawing tool sizes for them to choose when scribbling.
Use paint and paintbrushes to scribble.
Gift them a Water Doodle Mat or Buddha Board.
Use bathtub crayons or finger paints.
Avoid coloring sheets until after preschool as they decrease a child's creativity and confidence in their drawing skills.

Coloring with mom or dad as a recreational activity can be a time for bonding. A coloring sheet can also be a relaxing activity (look at all the teen and sult coloring books out there!)
Avoid praising your child for staying in the lines or making the picture look realistic when using coloring sheets.

DDon'tworry about how your toddler is holding the crayon or marker. Over time as hand strength develops, tthey'lllearn the proper grip for writing.
Ways to Develop Hand Strength and Hand-Eye Coordination
Play with playdough or modeling clay.
Work on puzzles
Use jumbo tweezers to pick things up and move them
Use jumbo eye droppers for crafts or water play
Perform finger plays
Play board games
June 3, 2023, L. Elizabeth Forry