Spring means it's time to start thinking about planting a garden or tending to the one you already have! If you enjoy gardening, then engage your kids. Gardening with toddlers perfectly blends sensory, science, and nature!
If you're looking for fantastic tips on how to start gardening with your kids, head over to KidsGardening.org or peek at this kid-friendly vegetable gardening plan from Better Homes and Gardens, shown below.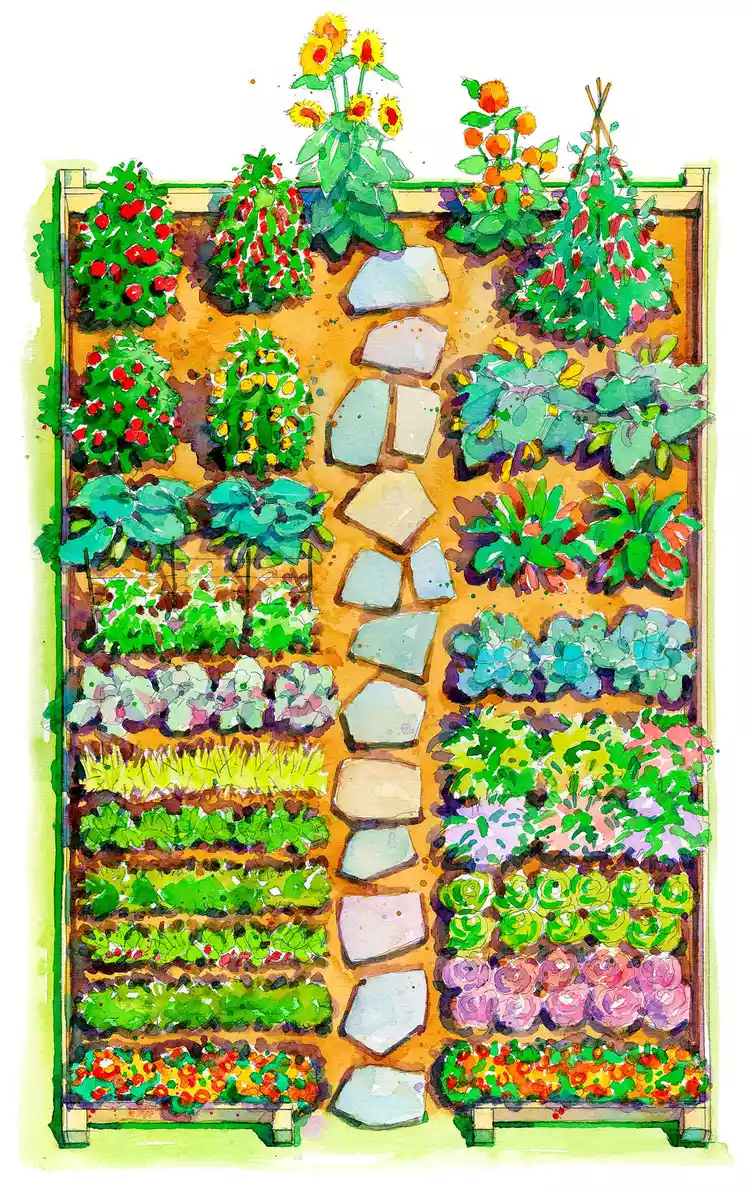 The garden is designed around color to encourage toddlers and kids to eat a rainbow of veggies! When kids are involved in the shopping, meal planning, and prepping process, they are more likely to try new foods.
At the very least, the experience of growing the plants and walking through the garden will stimulate the senses. Providing a sensory experience is crucial for toddler development.
Toddlers are the best natural explorers! They are discovering their world through touch, sight, hearing, smell, and taste. A garden is a perfect environment for exploration.
What types of plants are in this ideal garden plan? Sunflowers, several varieties of tomatoes, peppers, 'pacman' broccoli, green onions, carrots, cucumbers, lettuce, and more. You can download the free plan from BHG.com here!
Don't have space for a full 8 ft by 12 ft garden? Consider growing a Pizza Garden. This garden is designed to be grown in small spaces or containers and grows all the fresh items you need to create a homemade pizza. It is definitely toddler-approved.
Tips on Gardening with Toddlers
Planting the garden is half the battle. Here are a few other tips for growing a garden with a toddler in tow: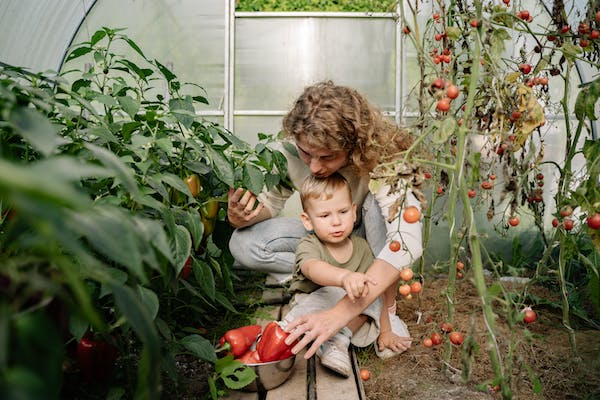 Check out picture books about gardens and gardening from your local library or bookstore to help your child understand what happens when seeds are planted. One of my favorites? Up, Down, and Around by author Katherine Ayres and illustrator Nadine Bernard Westcott.
Create plant labels. Have your child help you create picture plant labels to attach to garden stakes. This will help your child remember what you planted and where those plants are located in the garden. There are some GREAT homemade garden stake ideas over on Parenthack.com.
Get in the kitchen. Have your child help in the kitchen by washing the tomatoes before you cook or sprinkling basil or other herbs into your pasta sauce. You can start this now before your plants even grow with store-bought produce. Cultivate their anticipation with comments like "Oh! See this bright red tomato. We are growing these right in our backyard and will be able to pick our own later this summer."
Other Garden Ideas for Toddlers
If you're like me and love the idea of gardening but are horrible at the execution of it, there are still some great gardening ideas to engage your tots!
Pick a few hearty house plants that are tough to kill and engage your child in watering and caring for the plant.
Head to a local farmer's market once or twice a month to pick out fresh produce. Try something new each time you go!
Live in or near a big city? Then, chances are there is a Botanical Garden. My sons used to love roaming around the Chicago Botanic Garden on a nice day when we lived there. Many gardens have sections devoted just to kids.
Check out the National Gardening Association for more tips and tricks for gardening with tots.
Updated May September 13th, by L. Elizabeth Forry