Looking for a frozen treat you can serve up this summer that won't break the bank? Then beat the dog days of summer with a frozen, fun-to-make treat, Banana Pops! Banana Pops are an easy-peasy summer snack. All you need to get started are some bananas and popsicle sticks.
How to Make Banana Pops
A little healthier than the iced and creamed variety and so much more fun. Start by inserting a popsicle stick into the end of a peeled banana. Next, coat the banana in the yogurt flavor of your choice.
Then engage your little one in helping you dip and roll the bananas in the toppings of your choosing. Check out these great topping ideas from Happy Foods Tube! The delicious banana pop pictured below is coated in chia seeds, dried raspberries, goji berries, pumpkin seeds, diced almonds, and pollen granules.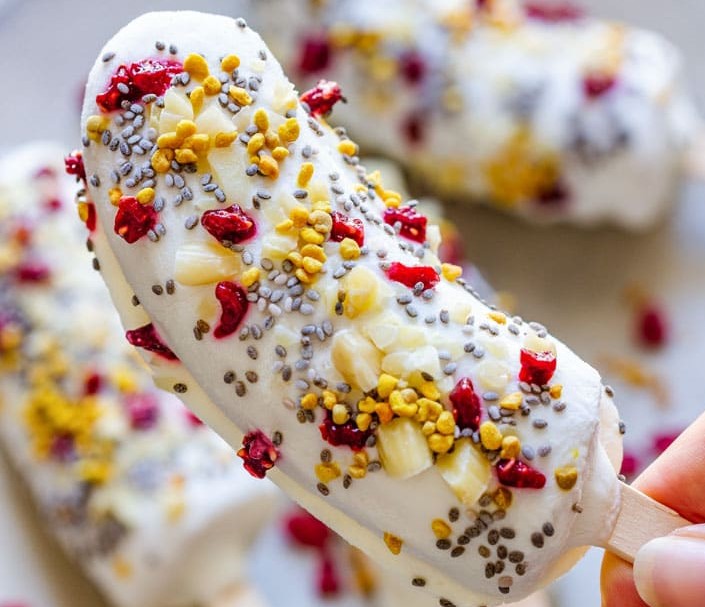 Want something that tastes a little more like a traditional ice cream pop? Use melted chocolate on the Frozen Banana Pop Treats and top with sprinkles, chopped peanuts, or other toppings of your choice!
This Fun cooking activity involves measuring and other math concepts connected to cooking and is a fun activity for the kids no matter how you coat it.
Frozen Banana Ice Cream
Another way you can use bananas to make a frozen treat is by popping some frozen bananas in a blender to make "ice cream." After I learned about this trick, it has become one of my go-to desserts year-round.
Place your frozen bananas in a blender, and add some spices. I like cinnamon, nutmeg, & pumpkin pie spice. Next, add a dash or two of salt and a dash of vanilla extract. You can also add a tablespoon or two of your choice of milk to make it a bit creamier.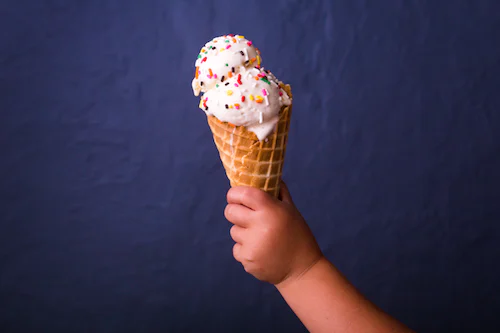 Blend until the mixture is smooth and thick. Serve it in a cone or a dish! You can also top it with chocolate sauce, fresh fruit, caramel, whipped cream, sprinkles, etc. Personally, I like mine with PB 2 watered down like a sundae syrup! You'll be astounded by how much it's just like regular ice cream- but with a lot less sugar!
Update May 14, 2023, by L. Elizabeth Forry